The face cradle is one of the most delicate parts of a massage table. It puts your reputation as a practitioner at risk if it breaks in the middle of a session. That's why a dependable face cradle is vital. In this review, we'll look at the Earthlite Caress Self-Adjusting Face Cradle. Donning the Earthlite brand means that this accessory is made from environment-friendly materials.
Features and Specifications
Earthlite has put to work at least three patent-pending technologies in this package: The Caress™ self-adjusting platform, Soft-Petals™ and the Form-Fit™ memory foam cushion. The petals are designed to flex and balance independently of one another to perfectly cradle the face as well as reduce sinus pressure. The dowels measure 8 inches on center.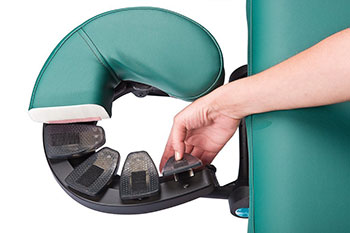 | Cradle Specs | Additional Info |
| --- | --- |
| Fits 8-inch on center outlets; 3/4-inch diameter | Form-Fit memory foam cushion included |
| Single Cam release lever for angle and height adjustments | Foam to cradle contact via Velcro |
| 8 Soft-Petal™ suspension pads | 1 year limited warranty |
User Reviews
Owners of the Earthlite Caress Self-Adjusting Face Cradle lauded it for being extremely comfy and easy to use. They claim that this cradle easily slides in or out of the massage table. Furthermore, their clients simply love it – soft, wide surface, stable, little sinus congestion.
However, there are not a lot of claims about this cradle being compatible with other massage table brands. Hopefully, the 8-inch on center measurement is enough to determine the product's compatibility with other massage tables.
There are also some owners who are worried about the plastic parts. They weaken and break over time.
Despite its weaknesses, a lot of owners claim that this is the most comfortable face cradle on the market. If you're still undecided, visit our Ultimate Face Cradle Guide page for more choices.