The Earthlite Spirit Portable Massage Table is Earthlite's top-of-the-line Reiki table. Many veteran Reiki practitioners consider it as their most trusted equipment. The Spirit is the best of the best, as some would call it. In this review, we'll take a closer look at this table and see where it excels.
Features and Specifications
The Earthlite Spirit Portable Massage Table is pleasing to the eyes on the outside and state-of-the-art on the inside. Its frames are built using what Earthlite calls hoop design, which gives the table more strength and stability. It also eliminates squeaking.
The Spirit can be custom built. Call to order options include full Reiki endplates instead of the usual half-Reiki/half-Standard endplates, 35-inch width, extended leg height, facehole and Ultraleather® upholstery.
| Table Specs | Additional Specs |
| --- | --- |
| 3-inch Pro-Plush™ cushioning system | 1000 lb. Mid-brace™ cradle-lock cabling system |
| Eco-friendly Natursoft™ upholstery | Shiatsu release cables |
| Managed forest hard Maple frame | Half Reiki, half standard endplates |
| 73 inches long (6 feet) x 30/32 inches wide (2.5/2.6 feet) | Flex-Rest face cradle included |
| Adjustable height: 23 inches up to 33 inches | Strata face pillow included |
| Weight limit: 800 lbs. | Dual headrest outlets |
| Table weight: 34 lbs. | Non-slip Stablefoot™ feet pads |
| Shipping weight: 48 lbs. | Ballistic nylon carry case included |
| Available in several colors | Lifetime limited warranty on frame |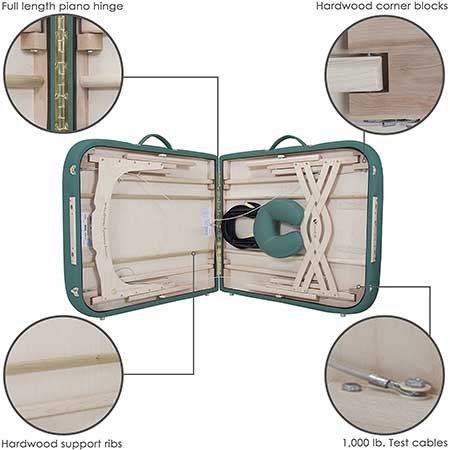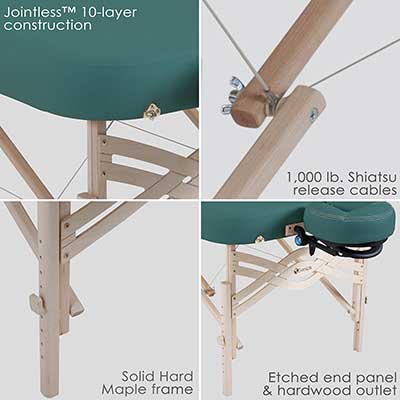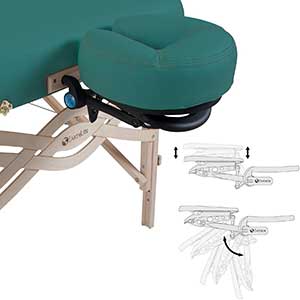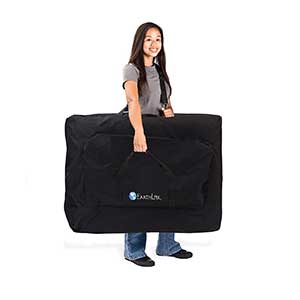 User Reviews
The Earthlite Spirit Portable Massage Table is certainly the best Reiki table on the market today. It has all the essentials that a Reiki practitioner desires: an eco-friendly manufacturing process, deluxe padding, squeak proof, endplate support and commendable after sales assistance. It's no wonder that it has become an industry standard.
The Spirit is a favorite among Reiki professionals and has received very good feedback in their circles. However, it is the most expensive table that you can buy, which makes it unpopular among novices.
At such a high price point, one would expect a generous basket of freebies. Unfortunately, only the table, headrest and carrying bag are included.
Even so, the Spirit is the table of choice for the seasoned Reiki practitioner. It's a good investment that will last for years. This is the perfect portable Reiki or massage table to use if price doesn't matter.
Click here for pricing of the Earthlite Spirit Premium Portable Massage Table