In this review, we will take a look at Master Massage's aluminum frame offering – the Master Massage Stratomaster Ultralight Portable Massage Table. The Stratomaster is not the only aluminum massage table that Master Massage makes. The company has at least 3 more aluminum frame models: the Zephyr, Calypso LX and ProAir. However, they all seem to have the same features apart from the color options.
Features and Specifications
The Stratomaster is, as the manufacturer claims, designed for the outdoors. It is so light that it can be easily moved from one location to another.
| Table Specs | Additional Specs |
| --- | --- |
| 3-inch thick cushion of Multi-Layer Small Cell Foam | ErgonomicDream adjustable face cradle |
| NanoSkin, antimicrobial, uv-resistant upholstery | Includes half round bolster |
| Electrostatic aircraft-grade aluminum frame | Big Foot leg platforms |
| 72 inches long (6 feet) x 30 inches wide (2.5 feet) | Auto-Lock leg system |
| Adjustable height: 24-34 inches | NEVrLOST™ push-button numbered leg adjusters |
| Table weight: 25 lbs. | Reiki leg panels |
| Shipping Weight: 41.1 lbs. | 4-pocket carrying bag |
| Weight Limit: 650 lbs. | 5-year warranty |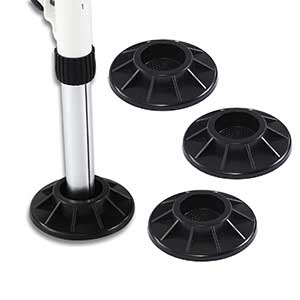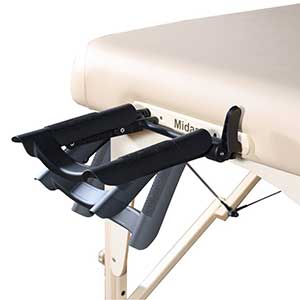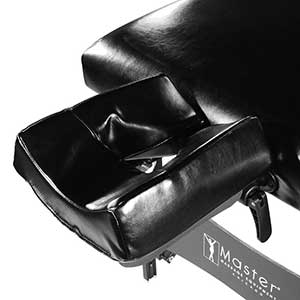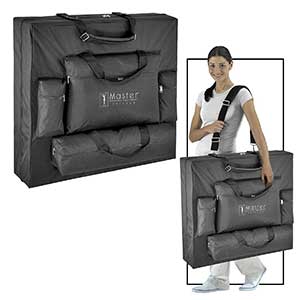 User Reviews
Owners of the Master Massage Stratomaster Ultralight Portable Massage Table are in agreement that it is lightweight, sturdy and easy to use. Some have claimed that the table was easy to fold and unfold, just as indicated in the fine print.
The 3-inch memory foam also had good feedback from users. Heavy clients were not a problem with the extra-thick foam.
The Big Foot pads are a great idea, as they are friendly on sensitive surfaces like carpets.
The most criticized section of the Stratomaster was the face cradle. There were some concerns regarding its quality and stability. Someone even pointed out that the locking mechanism broke after a little over a year of use. The good thing is that the cradle is standard sized, so a third party face cradle can be used to replace the one that came with the package.
Another concern that might arise after a few years of use is that the table may start to produce creaking sounds during an actual session. This can be caused by the aluminum joints losing tightness due to wear and tear. Although it can be fixed by locating the loose ends and tightening them again. If all else fails, the manufacturer provides a warranty and will gladly take the table in for repairs.
Overall, the Stratomaster is a great portable Reiki table. However, it is on the topmost end of the price range. It risks being gobbled up by a similar but lower priced offering from a competing brand, such as the Luna.
Click here for pricing of the Master Massage Stratomaster Ultralight Portable Massage Table