The BestMassage Portable Reiki Massage Table (U3MB) is an affordable table with a birch wood frame and PU leather upholstery. It can presumably support up to 450 lbs. of weight.
Features and Specifications
The U3MB is very similar to the U9. The notable differences are the width, weight and design of the reclining section. The U9 is 1 inch narrower than the U3MB at 27 inches and about 5 lbs. heavier at 40 lbs. The U3MB has the entire width of the table raised when reclined while the U9's width looks as if it was carved.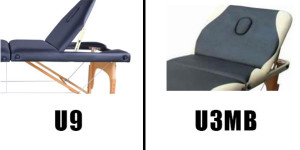 | Table Specs | Additional Specs |
| --- | --- |
| 2-inch high-density, small-cell foam | Includes a face cradle and face pillow |
| Oil & water-proof PU leather | Includes removable arm rests |
| 72 inches long (6 feet) x 28 inches wide (2.33 feet) | Includes a carrying case |
| Adjustable height: 26 inches up to 36 inches | Reclining lower section |
| Table weight: about 35 lbs. | Available in Black, Blue Cream, Purple and Mixed |
| Weight limit: 450 lbs. | |
User Reviews
The BestMassage Portable Reiki Massage Table (U3MB) is cheap if matched up against the likes of Master Massage or Earthlite, but a lot of users would agree that the U3MB does not look cheap at all. It's well built despite its economical price point.
Some users have reported creaks that were mainly caused by the plywood support under the padding. However, they don't happen very often and are tolerable. Even so, many would concur that this table is not strong enough for deep pressure massage work or for use in athletics.
The U3MB is great for energy work like Reiki and is a good choice for those who are just starting out.
Click Here for Pricing and More Images of the BestMassage Portable Reiki Massage Table (U3MB)