Merax is mainly a distributor of home and office-related products. The company sells a wide range of items such as massage tables, desks, chairs, cabinets, mattresses, fitness machines, bicycles, ink cartridges and toners, memory cards, USB readers and many more.
In this review, we'll look at their aluminum massage table – the Merax Aluminum 3 Section Portable Massage Table.
Features and Specifications
"3 Section" in the Merax Aluminum 3 Section Portable Massage Table simply means that there's one part that reclines and that the table folds into two parts when packed.
| Table Specs | Additional Specs |
| --- | --- |
| 2-inch high density small-cell foam padding | Includes a carrying bag |
| Ultra soft advanced material synthetic leather upholstery | Includes an adjustable headrest |
| Aluminum frame | Includes a front arm rest sling with heavy duty strap |
| 73 inches long (6.1 feet) x 27 inches wide (2.25 feet) | Includes arm rests |
| Adjustable height: 24-32 inches | Has a face hole plug |
| Table weight: 37 lbs. | Adjustable head tilt angle |
| Weight limit: 500 lbs. | Available in Black and Black Red |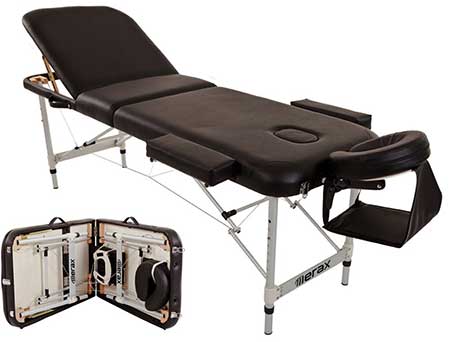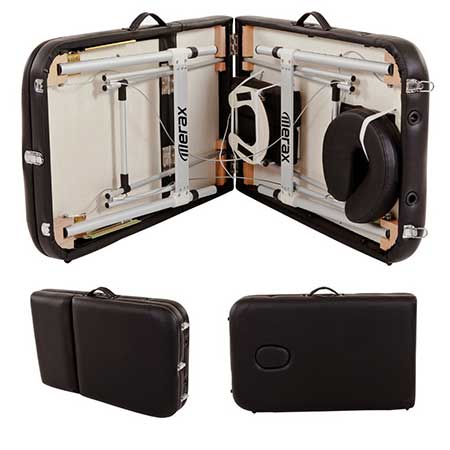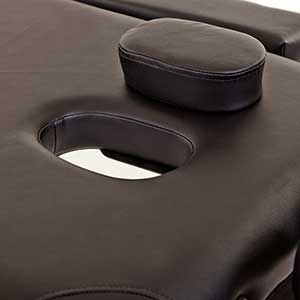 User Reviews
The Merax Aluminum 3 Section Portable Massage Table is heavy at 37 lbs. even if it's an aluminum table. Nonetheless, aluminum may have contributed to the table's durability and stability.
The table is also shorter than competition with a maximum adjustable height of only 32 inches. Most competitors have 34-36 inches maximum height.
At around 2 inches, the padding is mediocre at best. Competitors have an average of 2 to 2 1/2 inches of padding while some are up to 4 inches thick.
There are also reports about the headrest not locking in position, which makes people a bit anxious.
That being said, the Merax Aluminum 3 Section is one of the most affordable tables out there. It's made of aluminum, has a reclining lower section and its face hole plug is something that many competitors don't have. It's good for home use.
Click Here for Pricing and More Images of the Merax Aluminum 3 Section Portable Massage Table