The Earthlite Avalon TILT Premium Portable Massage Table is the same table as the Avalon FLAT. The only difference is that this one has TILT functionality. The tilt option is especially helpful for patients with respiratory conditions, such as asthma.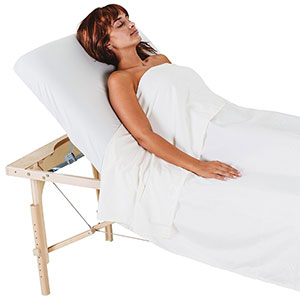 Asthmatic people typically have difficulty breathing when lying flat on the bed. A pile of pillows is often used in the absence of a tilting bed so that the person is nearly in an upright or 90-degree position. Many medical practitioners point out that this is due to the lungs getting the most air flow and the least effort when sitting erect rather than lying on a fetal, back, stomach or any other sleeping position.
Features and Specifications
The Avalon TILT is exactly the same material that the Avalon FLAT is made of. Both tables only differ in the design.
| Table Specs | Additional Specs |
| --- | --- |
| 2.75-inch multi-density, CFC free padding | 1000 lb. aircraft grade steel support cables |
| Hardwood frame and hard maple legs | Shiatsu release cables |
| 73 inches long (6 feet) x 30 inches wide (2.5 feet) | Reiki endplates on both ends |
| Adjustable height: 23 inches up to 33 inches | Flex-Rest face cradle included |
| Weight limit: 750 lbs. | Strata premium face pillow included |
| Table weight: 34 lbs. | Heavy duty carry case included |
| Shipping weight: 56.4 lbs. | Lifetime limited warranty on frame |
| Available in various colors | 3-year warranty on foam and upholstery |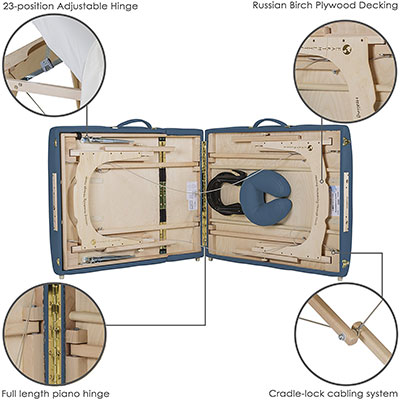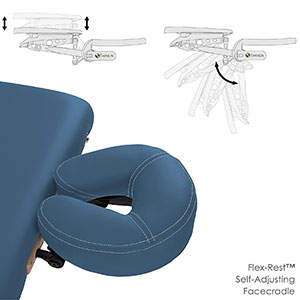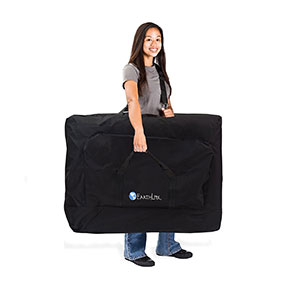 User Reviews
The Earthlite Avalon TILT Premium Portable Massage Table is as expected, highly recognized for its stability. For that reason, many owners use it for various purposes – from sporting events to an extra bed for accommodating more clients.
Its tilting option also opens up opportunities for other applications, such as reflexology.
Although the weight is justified, smaller practitioners may have a tough time moving this table. In this case, a massage table cart will come in handy.
However, some users have lamented over its steep pricing. Sure, the Avalon XD is a premium table, but it would have been more enticing if it included arm rests and a bolster in the package.
Click Here for Pricing and More Images of the Earthlite Avalon TILT Portable Massage Table