In this review, we will take a look at the Sierra Comfort Luxe Portable Massage Table. The Luxe belongs to the top end of the mid-range portable tables. The table below shows Sierra Comfort's line of portable massage tables as well as their corresponding product code. The higher the number, the more features it packs.
| Name | Code | Price |
| --- | --- | --- |
| LiteCarry | SC-401, SC-402 | $ |
| Relief | SC-501 | $$ |
| Preferred | SC-501A | $$ |
| Sooth | SC-601 | $$$ |
| Relax | SC-701 | $$$ |
| Luxe | SC-1001 | $$$$ |
| N/A | SC-1005 | $$$$ |
Features and Specifications
The Sierra Comfort Luxe Portable Massage Table offers superior quality minus the price tag of a premium massage table. It has the same features as the other Sierra Comfort tables, but with a bigger width and a thicker padding.
| Table Specs | Additional Specs |
| --- | --- |
| 3-inch high density foam padding | Water and oil resistant deck |
| 72 inches (6 feet) long x 30 inches (2.5 feet) wide | Double wrapped PU leather |
| Length with face cradle: 82 inches (6.83 feet) | Lightweight adjustable face cradle |
| Closed: 36 inches long x 30 inches wide x 9 inches thick (3 feet x 2.5 feet x 0.75 feet) | Face cradle attachment on both ends |
| Adjustable height: 23 - 33 inches (1.91-2.75 feet) | Forward swinging arm cradle |
| Beach maple hardwood construction | Premium carry handles |
| Base table weight: 35 lbs. | Durable stitching |
| Weight limit: 450 lbs. | Luxe Premium Carry Bag (SC-1002) included |
| | 5-year limited warranty |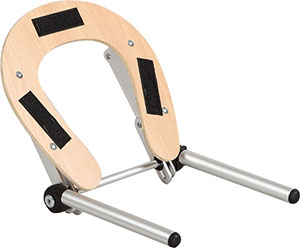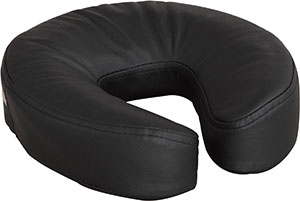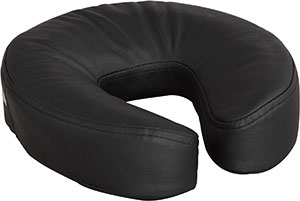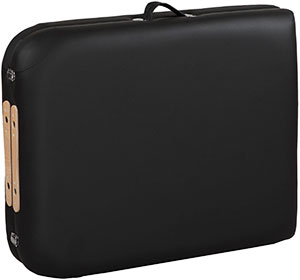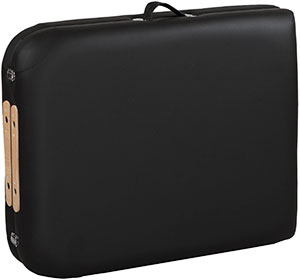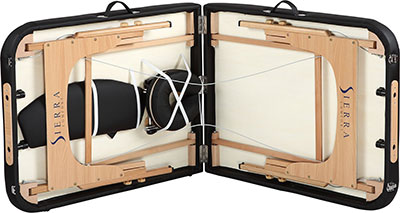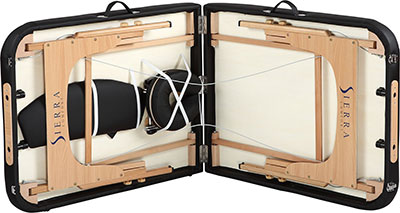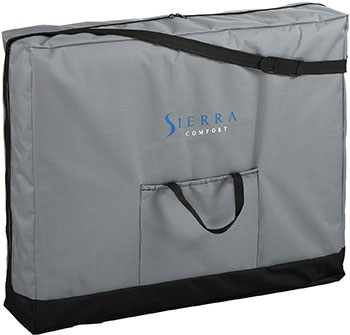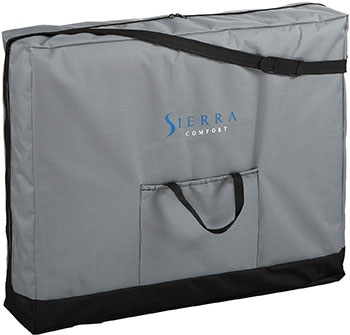 User Reviews
Based on user feedback, the Sierra Comfort Luxe Portable Massage Table has lived up to its promise of superior quality without a premium price tag. Lots of users, from beginners to experienced massage and Reiki practitioners, gave this massage table a thumbs up in the price and quality department. Many users use the Luxe on a regular basis, and they have been satisfied with its performance.
The face cradle attachments on both ends of the table are a welcome addition.
However, the Luxe has some shortcomings too. The face cradle is the same one bundled with the other Sierra Comfort massage tables and has been criticized for being flimsy. Although several users have pointed out that the company was quick on issuing a replacement.
There were also a few users who reported issues with the locking mechanism (when the table is folded). The locks seem to be substandard and have to be handled with care.
All in all, the Luxe can be an everyday massage table but is not designed for heavy use. If you want a table where you can throw in almost any weight without worrying about it breaking, then go for a premium massage table.
Click here for pricing and more images of the Sierra Comfort Luxe Portable Massage Table